From Knowledge Center
2010 Census Resources and Connecticut Results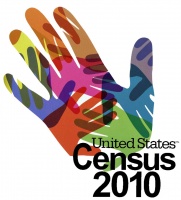 On March 9, 2011, the U.S. Census Bureau released 2010 Redistricting files for Connecticut, containing a limited amount of local-level information on population, race/ethnicity, age, and housing unit counts from the 2010 Census.
Additional data from the 2010 Census will be posted at the Census Bureau's American Factfinder website, as well as on DataHaven. Specific tables by age group, race, gender, and housing type will become available on a rolling basis from the Census Bureau. Please visit the Census Bureau's 2010 Census website for the latest information, or follow them on Twitter.
DataHaven will post files and data visualizations related to the 2010 Census on this page. We encourage organizations, agencies and citizens located within the Greater New Haven and Valley Region to contact us if they need assistance with using data from the Census Bureau.
Important Note: What's New About the 2010 Census?
There are several differences between the 2010 Census and previous Censuses. The Census "long form," which was used to collect data for the 2000 Census as well as previous Decennial Censuses, provided a 1-in-6 population sample of demographic and socioeconomic characteristics such as educational attainment, commuting, income, housing costs, and poverty. This form is no longer collected as part of the Decennial Census, and instead has been replaced by the American Community Survey (ACS). The ACS is a nationwide, continuous survey designed to provide reliable and timely demographic, housing, social, and economic data every year. The 2005-2009 5-Year ACS provides an approximately 1-in-9 population sample, collected over 5 years, that may be used to changes in these data at a local level since 2000. 3-Year and 1-Year ACS samples are also available, but are subject to larger margins of error and only provide data for larger geographies such as counties and large cities.
2010 Social, Housing, Demographic, and Economic Data Profiles
Links to the most recent town- and county-level Census socioeconomic data profiles are posted on our website at this page. These are from the ACS (see above). Various indicators from the American Community Survey and Census are also being posted on DataHaven's indicator page. Please contact us if you can't find what you need.
Connecticut Data Visualizations
The following pilot data visualizations were developed in 2011 using the Weave platform developed by the Open Indicators Consortium (OIC) working with faculty and students at the University of Massachusetts Lowell.
These visualizations may no longer be supported. Please check back for new mapping features in fall 2015.
Total Population: Percentage Change in Population, 2000-2010
This map and data table, available at the County Subdivision level, allows users to select geographies within the table or by clicking on the map. Scroll over each town to view its characteristics. Colors are based on % population change since the 2000 Census. The population of the State of Connecticut as a whole in the 2000 Census was 3,405,565. The state's population increased by 4.9% between 2000 and 2010, to 3,574,097.
Note: This feature is no longer active. Please check back for new mapping features in fall 2015.
Visualizations of Change in Race and Hispanic/Latino Population, 2000-2010
We have developed visualizations of the 2010 Census Data by Race and Ethnicity at this page. Here you may view:
Total Change in Hispanic or Latino Population (of any Race), 2000-2010
Total Change in White, Not Hispanic Population, 2000-2010
Total Change in Black or African-American, Not Hispanic Population, 2000-2010
Total Change in Asian, Not Hispanic Population, 2000-2010
Other Demographics Resources and Future Visualizations
Please see our page on Demographic Data and Indicators for links to other statewide and national data sources, including those compiled by DataHaven. Please contact us with any questions -- our resource collection expands in large part based on requests from our users.
Additional Analyses of 2010 Census Connecticut Data
1. Based on the March 9, 2011 Redistricting file, a preliminary analysis of the changes in population, age and race/ethnicity in Greater New Haven and Valley Region, 2000 to 2010, may be found here: File:2000-2010 Census Demographic Change in Greater New Haven 030911.pdf. The initial press release provided information on the population of Connecticut's Counties and largest cities - please see File:CT Counties and Most Populous Cities, 2000-2010 Change.pdf
2. A preliminary analysis of the changes in population, age and race/ethnicity in Connecticut's ten largest cities, and the state as a whole, 2000 to 2010, may be found here: File:Changes in Cities 2000-2010 Census Population and Race.pdf
Guidance
1. Comparing American Community Survey to other Census data sets, including the 2000 Decennial Census: Guidance from U.S. Census Bureau http://www.census.gov/acs/www/guidance_for_data_users/comparing_2010/
Comparisons to Other Major Cities in New England
Change in Total Population, 2000 to 2010, for New England cities of 100,000 persons or more:
New Haven +5.0%
Worcester, MA +4.9%
Boston, MA +4.8%
Stamford +4.7%
Cambridge, MA +3.8%
Bridgeport +3.4%
Waterbury +2.9%
Hartford +2.6%
Providence, RI +2.5%
Manchester, NH +2.4%
Lowell, MA +1.3%
Springfield, MA +0.6%
Future Visualizations on DataHaven Will Include:
Visualizations of Population over 18 years and under 18 years.
Histograms and scatterplot graphs allowing additional analysis of data variables using bubble sizes and colors.
Census tract-level and block-group-level changes.
2005-2009 American Community Survey data on socioeconomic characteristics.
Again, we strongly encourage you to contact us for details or if you need any assistance gathering these data.