[Excerpt from Yale Daily News coverage of the Greater New Haven Community Index 2016]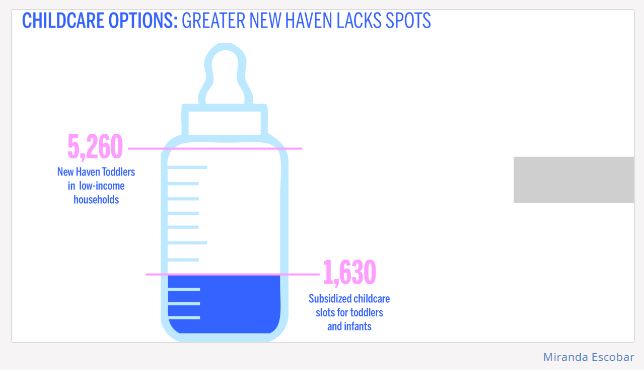 By Sara Tabin, October 13, 2016
There is a lack of affordable infant care in the Elm City, according to a new report by DataHaven, a New Haven-based nonprofit analysis group.
DataHaven's 2016 Greater New Haven Community Index revealed that although there are 5,260 infants and toddlers in low-income homes in Greater New Haven, there exist only 1,630 subsidized infant child care spots. Of these, only 180 are free of cost. This leaves the families of 69 percent of these infants without affordable child care. The index also found that many New Haven families spend more than the federally recommended 7 percent of their income on child care.
"We know if [toddlers] are in high-quality learning environments it helps their brains develop more robustly," said Jennifer Heath, CEO of United Way for New Haven and a former co-chair of the New Haven Early Childhood Council. "It gives them the foundation they need to be successful in school and in life."
The index reports that children in well-resourced and regulated early child care programs are more likely to stay in school and less likely to receive welfare or be part of the criminal justice system later in life. Thirty-seven percent of the young children in Greater New Haven are from low-income households — ones with an annual income below $47,700 for a family of four, according to the index.
DataHaven Executive Director Mark Abraham '04 told the News that care for toddlers is underfunded in the city compared to other preschool programs in the Greater New Heaven area. Although there are more spots for three- and four-year-olds, there is very limited funding for parents that want to send their younger children to high-quality child care spaces, he said.
According to Heath, dependable and affordable child care is important for parents in the workforce. Many parents currently have to compromise their work schedule and seek help from friends and family members to care for their infants, Heath said. "It feels very patchwork for families, trying to fit everything together," Heath said.
Eliza Halsey '01, Executive Director of the Elm City Montessori School and current NHECC member, said NHECC has a committee that has been working with Mayor Toni Harp's office for over a year on the Early Childhood Platform of the City Transformation Plan, a five-year plan to improve multiple facets of New Haven. Specifically, the platform includes increasing access to, and quality of, infant care as well as the availability of information for families with infants. The committee hopes to add 150 affordable infant care slots and achieve universal preschool by 2020. According to Halsey, New Haven has more infant care options than many communities in the state, but she said there is still a large need that significantly impacts the day-to-day lives of parents.
However, New Haven is far from being the only city struggling to meet its childcare needs. Natalie Vieira, policy fellow at the local nonprofit All Our Kin, said a lack of affordable child care, particularly infant and toddler care, is a countrywide issue. "For infants and toddlers, there is really no good system in place to provide child care," she said.
According to Heath, one option available for low-income families with infants is Care 4 Kids, a state subsidy that families can apply for based on their incomes. If granted, the grant amount is flexible and can be used for a licensed child care center or to pay a relative to watch a child. However, Heath noted that the subsidy is increasingly difficult to receive due to changes made to the application process this academic year.
Federal money can also help subsidize child care: Early Head Start, a federal program that serves infants and toddlers, offers free or low-cost childcare and family development services. Heath said New Haven has several Early Head Start programs, adding that United Way secured EHS grants in both 2009 and 2014.
When asked about the struggles New Haven families with infants often face, city spokesman Laurence Grotheer said Harp continues to work to identify state and local resources to expand pre-K education and support for economically vulnerable families with young children. "Mayor Harp, while serving in the state Senate, was an outspoken supporter of both the Earned Income Tax Credit and universal preschool enrollment — programs that would reduce the pressure on low-income families to manage the challenging expense and logistics of child care," Grotheer said.
Link:
http://yaledailynews.com/blog/2016/10/13/lack-of-child-care-affects-low-income-families/